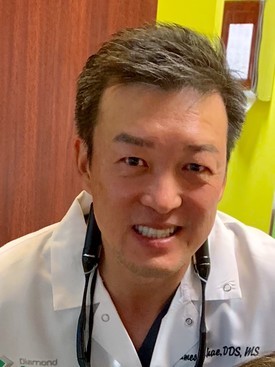 Welcome to Diamond Bar Dental Group
We Create Beautiful, Healthy, & World Class Smiles! Home of the Dentist's Dentist: Dr. James Chae DDS, MS
Here at Diamond Bar Dental Group, we believe that a smile tells a thousand words, and we are dedicated to giving our patients high-quality dental care. We offer a full range of dental services, so all of your family's needs are met under one roof.
Our goal is for you to leave our office with a memorable and enjoyable dental experience, which is why our welcoming and compassionate staff will do everything they can to make you feel right at home.
If you are looking to brighten and enhance your smile, please don't hesitate to contact us today at (909) 396-0077!
Diamond Bar Dentist. World Class Smiles!
When you visit Diamond Bar Dental Group, your smile is our top priority. Our entire team is dedicated to providing you with the personalized, honest and gentle care that you deserve.
Along with a full spectrum of general dental services for you and your entire family, Dr. Chae can also perform many of the most popular cosmetic dental services such as Zoom tooth whitening, dental implants, porcelain veneers, composite fillings, porcelain crowns, and much more. Our dental office can provide you with Periodontist, Oral Surgeon, Endodontist and Hygienist services.
Digital X-ray (Suni), Dentrix (Computerized Management System), Caesy (Patient Education System), Zoom! Whitening, Intraoral Camera (Suni) with before & after pictures, Plasma TV, HDTV ( in each operatories), coffee/hot chocolate bar and warm towel for patients are available in our facility.
Part of our commitment to serving our patients includes providing information that helps them to make more informed decisions about their oral health needs. This website is a resource we hope you'll find both useful and interesting.
We genuinely hope this site is helpful to you in learning more about our practice, dental conditions and treatments, dental recommendations, and more.
Please browse through our website and be sure to give us a call if you have any questions or would like to schedule an appointment.
Testimonials
Wonderful place! So clean! Organized! The dentist was amazing. Never felt any pain. He was gentle. Everyone was super courteous. Never had such a great dentist visit.
Angel L.
Clean, professional and efficient service. All their equipment is up to date and their customer service was great
Joel C.
We consistently leave 100% satisfied !! No pain with the numbing shot for fillings and his cosmetic work is ABSOLUTELY AMAZING!!!! Can't even tell a gap was ever there!
Margarita M.
Best dental group ever !! Love all the staff verry professional kind & friendly.. I had terrible dental experience before and thanks to this wonderful Dimond Bar Dental group I enjoy every visit .
Terry C.